The Muppet Show did several things for me: introduced me to some awesome music that was way outside my Bear Country Jamboree record, had me rolling with laughter at some of the funniest people of the time, and scared the
bejesus
out of me.
Where else could I hear greats like Roger Miller or Alice Cooper or Debbie Harry sing their hits when I was a kid being raised in a conservative household? I still laugh when I watch Johnny Cash with
Rowlf
the Dog sing "Dirty Old Egg-Sucking Dog". Every time I hear "Baby, Baby, Don't Get Hooked On Me" (and I hear it a lot since it's on my
iPod
in a favorite
playlist
) I see Mac Davis sitting on an oversize fishing hook.
The Muppet Show opened up the music world to my young ears, and I love that.
I also saw Gilda
Radner
tap dance her super glue troubles away; Ruth
Buzzi
wrestle some respect out of
Sweetums
; Steve Martin play a great dueling banjo; and Cloris
Leachman
ask if she was the cook or the dish......
But it also, unwittingly, gave me some fuel for my nightmares.
When Loretta Lynn (who I love and adore) sang "One's On The Way" with those little baby things crawling all over the place, with their beady little eyes and gaping mouths.....Shudder! If I ever say, "That baby looks like a Muppet Baby," I do not mean that cartoon with baby versions of Kermit and Miss Piggy and the gang. And I do not mean it as a compliment. Those "babies" were terrifying.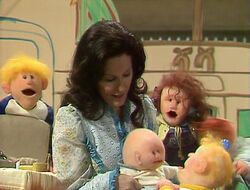 Did that stop me from watching The Muppet Show, or being a huge fan of their movies? No way! I'll risk those horrifying babies every time, for a good old laugh with my dear friend Kermit.